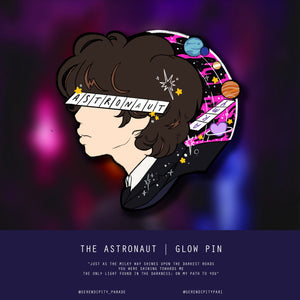 Based on the Song The Astronaut from SeokJin's Single
1.6 Hard Enamel | Black Nickle
Pin will have glowing elements colors are subject to change based on color availability in the factory. 
This preorder will be open until Feb 6th or until all spots are filled.
Prices will increase after preorder sales end.
***By placing this preorder you are making the CONSCIOUS DECISION to wait for the preorders to close, pins to be approved produced and shipped out. This can take up to 12-13+ weeks, please keep this in mind before committing to the preorder. You will NOT be refunded during the production stage of the preorder once your order is placed.
Unless there is a serious error or flaw with your order ALL SALES ARE FINAL-- I can not be held responsible for what happens to your mail after it leaves my office.

For more information on what a preorder is please read through my FAQ: https://serendipityparade.bigcartel.com/faqs-shipping
You will be prompted at checkout to agree to these terms & conditions. 
******Please keep in mind that Black Nickle is an extremely reflective and polished material, small scruffs due from transport are bound to be present regardless that it is a standard grade.
***Preordering pins is a method to help fund a bulk order of pins. By purchasing a preorder you are not only helping fund them but ensuring you will be in possession of the pin before anyone else at a cheaper price. Remaining pins will be put up in the shop after preorders are sent out, however prices will increase.***